So I guess I lost track of time and haven't said anything in a month. Don't worry followers, you haven't missed a thing, I haven't done anything significant in the way of playing with horses. In the past few weeks we just moved out of the boarding barn with Barn Nazi in it to our own 17 acre ranch. Xena's hives are touch and go. Here one day, gone tomorrow. We spent the last month experimenting and experimenting with hay/shavings/food/stalls/... etc. Still no definitive answer.
Mesa on the other hand is doing awesome!!! She's galloping around and enjoying life. Her leg has healed from the injury, her ankles haven't been as swolen as usual and I WILL get her in shape enough to film those darn auditions this summer if it's the last thing I do! Most people sincerely under appreciate the blessing of a young, sane, sound partner!!!
Those of you who have been following for a while may remember that when I got Xena I made sure she didn't get to have contact with other horses in the beginning so that she'd pair bond with me, instead of another horse? Well I sure proved that theory! The day we moved them in, I put all 8 in their stalls and was so exhausted that I just went inside and fell asleep on my matress on the floor. All I did with the horses that day was feed them. The next morning when I went to take them out, Mesa's threshhold was opening her stall door, and Xena's was 3 feet out of the barn. Both flew around like kites on the end of the rope. It was a smidge of a downer, knowing I must have looked pre-level 1 simply trying to save myself from flying hooves of wide-eyed monsters. Emotional fitness? I'll admit that at first I took it as a personal insult that my horses were so herd-sweet that even my play time + the endless supply of grass was less important than being in a stall with the others. I thought, Xena's never gotten attatched this bad before, they don't even like each other, why doesn't she see ME as her herd already??
Eventually I figured it out, and the problem was that I was being more of a caretaker than a partner. See, I had 1 safe area to play in, it wasn't really fenced so they all had to be on leads, in was 3 feet tall so the biggies could jump out, so I had 8 horses plus 2 dogs to play with on ropes every day. All I did was try to give each one a turn for exercise, and move on. Well when you drag an introvert into a new place, tell her she doesn't have time for grass, then start pushing her around in circles, she's
gonna explode
!!! Why on earth I didn't think about the rapport that I needed to build first to be able to properly get her moving I don't know. Chores make people direct line that's for sure! In Mesa's case I hauled the extrovert kicking and screaming away from her herd, stuck her in a scary pen, and told her to listen to me, when I was the least of her priorities. Of course she blew up and went RBE and couldn't wait for me to put her back. After that I took small grazing trips with each of them. I took Mesa out to eat the grass just out of the barn, and around to Xena's window, then back inside. Outside by her stall. Little farther away. Back inside. Eventually she didn't even want to waste her time going back in. I repeated the process with Xena. No, not going - where are we going - grass - grass doesn't matter - where's Mesa - I don't like this - we're gonna get lost - grass - stall - why back inside? - going out - I dont wanna - Mesa!!!! - grass, grass, grass is good - back inside - but the grass is outside - let's go outside - let's go that way - let's find Mesa - there she is! - don't bug me I'm eating - hey slow down - why are we trotting - we're trotting to grass, good idea - I like this grass - no not going back in, good grass over here - trotting again? - hey even better stuff over here - alright where ya wanna go - shade and tall grass, sweet - wait wait don't put me away - hey where are you going? - *whinny* - what about our grazing adventure? .........aaaaand so Xena was now finding me a herd leader and more important than noisy clingy Mesa. :D
Yesterday was an awesome day. I played some seven games with a bucket with her. She was calm and it was a hot afternoon, and her hives were down, so I sat on her while she grazed. She's gotten used to me doing this now, she's so comfortable. Can't wait till we actually move. Just gonna take a bit more mutual trust. Probably more from me than her at this point.
Macy has been awesome. I rode her bareback for the first time seriously doing anything since before winter. OHHHH that canter! Smoooooth as butter. She was listening to every subtle cue I could give her, even some things I didn't remember I taught her!
And the kitties!! We ended up bringing home all 6 kitties, and they are quite comfy ruling the barn! I just love the Mama. We named her Pheonix. I get so distracted doing barn chores when the 5 little puffballs climb in my feed buckets, jump on the broom, crawl up my pant legs, do sommersaults in the barn aisle... awww never a dull moment.
This is the front arena/pasture, going to be Parelli Playground.
One of the 10 back pastures :)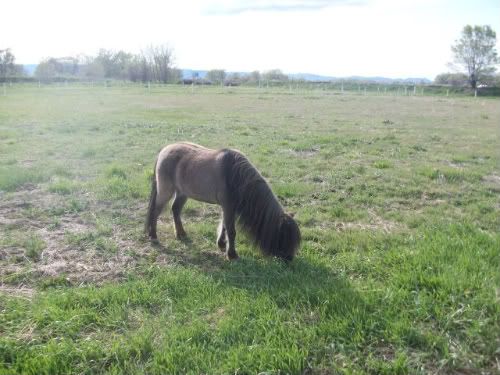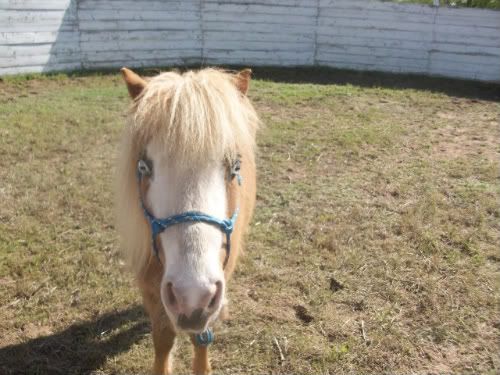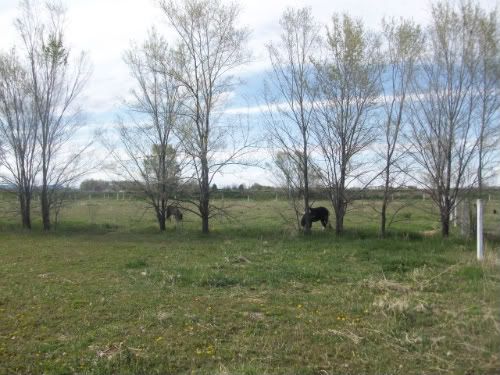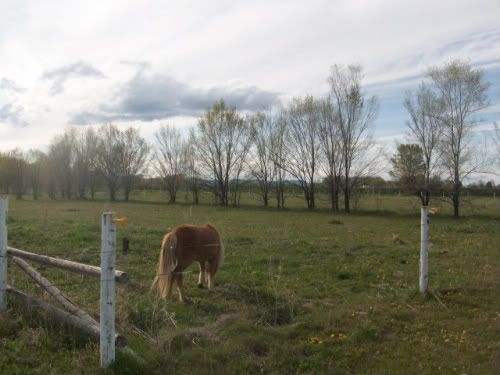 If nothing else, the sunsets make it worth it.